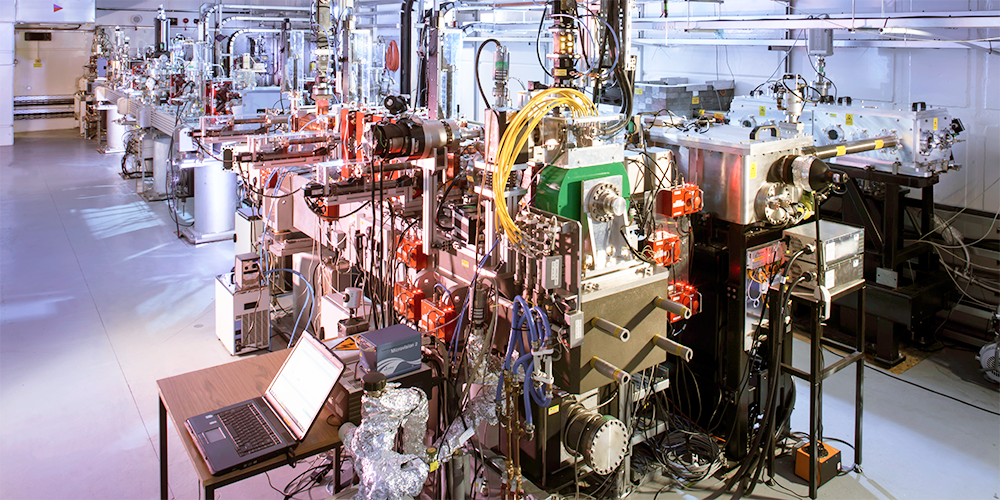 Interior of the VELA facility (Image: STFC)
VELA (Versatile Electron Linear Accelerator) is an ultra-high performance electron beam injector facility located at the Science and Technology Facilities Council (STFC) Daresbury Laboratory in the UK. The facility delivers a highly stable and customisable short pulse, high quality electron beam to its test enclosures. VELA is ideally suited to the development and qualification of advanced accelerator systems.
The facility includes an S-Band Photo-injector which delivers up to 250 pC of bunch charge at 6 MeV and 10 Hz. Upgrades are in progress to increase beam energy (up to 40 MeV) and repetition rate (up to 100 Hz). The copper photo-cathode is driven by a UV laser which delivers a pseudo-Gaussian profile of 1 mm FWHM at the cathode. RF power is delivered to the RF Gun via a 10 MW klystron which is powered by a modulator.
The electron beam is transported through a beam diagnostics line comprising wall current monitor, pepper pot, YAG screens, Faraday Cup and slit/strip line BPMs, and a transverse deflecting cavity, before exiting into the experimental enclosures. 
---
Features
Ultra short electron pulses, down to 100 femtoseconds
Ultra high beam position and timing stability
The unique ability to precisely tailor the electron beam, experimental configuration and shielding to match your requirements
Cutting edge beam diagnostics
---
Support offered
Users will be offered a subsistence of €100 per person, per day. No travel expenses will be included.
In addition, users will have access to knowledge and equipment available through STFC's national laboratories including supercomputing, machining and tooling, rapid prototyping, analytical equipment, test and validation facilities and vacuum science expertise. If required, these services can be discussed prior to the review and allocation process.
---
Contact
Interested parties are encouraged to contact the Facility Coordinator before beginning the formal application process with brief details of the test campaign proposal. 
VELA Facility Coordinator: Anthony Gleeson